Happy New Year! Two weeks late…but is it ever too late to say that? Maybe, but I think the whole month of January is fair game for the New Year wish! Anyway, as I mentioned during the show it just seems like it has been particularly difficult to get the wheels turning this year. With everything going on, and too many things hitting all at once, I'm not sure which direction to go! As we move out of these sub zero temps I'm sure things will thaw out nicely and we can get back on track again. Not that we are off track or anything, but in my mind I guess I'm never as far along as I would like to be. Nevertheless, we had a couple of really good shows in a row the last couple of weeks. Here we go …
______________________________
We had Kim Janzen of the Kansas Humane Society join us this week to talk about the GREAT work they are doing there in a spirit of cooperation with the local community in Wichita Kansas. We have had some fun guests on the show but we had more fun with Kim than most others so far! She was a great guest and she talked about the great new facility being built that should be ready this June. She also mentioned that they are participating in a terrific program on "Change a Pet's Life Day" on Saturday January 24th where adoptions are being donated and even a raffle adoption will be done. The pet loving people at "Science Diet" are sponsoring some of the adoptions so if you are in Kansas or close to Wichita and are looking for a new pet, get down there and check them out!
_______________________________
Beth Contraras joined us last week on January 8th from the Great Lakes Mastiff Rescue organization. She is from the Michigan Chapter but they serve Ohio Michigan Illinios, Indiana, Wisconsin, and Minnesota. Check them out for some really BIG bundles of joy. It takes a special person to have a Mastiff so listen to this show to learn what it takes to care for one of these gentle giants.
________________________________
Dr. Patrick Mahaney of California Pet Acupuncture and Wellness Vet question of the week. Dogs being brought into the country by the military and others need to be checked and screened for rabies and other health issues they may have! Great advice by Dr. Mahaney!
_______________________________
Listen to the My Buddy Butch Talk Show #21 now for the Great Lakes Mastiff Recue segment. and 
Listen to the My Buddy Butch Talk Show #22 now  for the interview with Kim Janzen of the Kansas Humane Society!
 Join us again next week! As always our shows are available on Apple iTunes and on our own site. All shows stream 24/7 on our site and can be downloaded in mp3 format from our BTR site.  

Get free Shipping for My Buddy Butch at our site by entering the Code MD0908 at Mybuddybutch.com
You can also request an "Autographed" copy!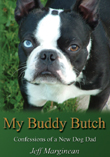 My Buddy Butch – Confessions of a New Dog Dad is a family friendly book and makes a great Holiday gift!   AMAZON.COM
, BORDERS BOOKS, BARNES & NOBLEÂ Â