There is a lot of great information in this show! You know, it is really tough enough trying to deal with this bad economy and paying the bills without having to worry about losing everything including your pet, a member of your family, because you can't afford to feed them. Enter… Pikes Peak Pet Pantry stepping up to help the families in need feed their furry members potentially keeping them from ending up in a shelter.  Thanks to Darlene McCaslin of Pikes Peak Pet Pantry who joined us to talk about the great work they are doing helping people in need feed their pets. She also shares how YOU can start your own pet pantry to help in your own community! God Bless you Darlene and everyone at the Pikes Peak Pet Pantry we're with you! Please check them out!
______________________________
PET SHELTER OF THE WEEK
Second Chance 4 Animals, Inc. of NE OHIO
Ohio
Featured Adoptable Pet:


Bandit
Second Chance for Animals Inc.
Canton, Ohio
compliments of Petfinder.com
We had Sandy Boeshart of the Second Chance 4 Animals  shelter join us this week to talk about some of the rescue animals they have available and their procedures and policies to adopt. The organization has been in existence for 15 years and placed Hundreds of animals every year. They will drive to meet people for adoption but limit their coverage to  roughly 180 miles from Canton, Ohio…generally the Ohio border.
_______________________________
Dr. Patrick Mahaney of California Pet Acupuncture and Wellness Vet topic of the week. Peanut Butter recalls for Salmonella poisoning and how it affects your pets and also Hypothermia can be a problem for your pet in winter… even in California! Great advice by Dr. Mahaney!
_______________________________
Listen to the My Buddy Butch Talk Show #23 now   Join us again next week! As always our shows are available on Apple iTunes and on our own site. All shows stream 24/7 on our site and can be downloaded in mp3 format from our BTR site.  

We are trying to do what we can in this tough economy so we are extending the free Shipping for My Buddy Butch at our site by entering the Code MD0908 at Mybuddybutch.com   Read More Reviews of the Book HERE!
You can also request an "Autographed" copy!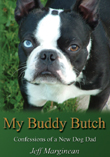 My Buddy Butch – Confessions of a New Dog Dad is a family friendly book and makes a great gift!   AMAZON.COM
, BORDERS BOOKS, BARNES & NOBLEÂ Â