Thanks to Barbara Babikian of Angel on a Leash for joining us and discussing the great work they are doing in hospitals to help put a smile on the faces of those suffering from medical issues of all types. Barbara is the Coordinator of the animal assisted Therapy program for Angel on a Leash for New Alternatives for Children. Barbara and her Sheltie Lilli have been working together for years and she tells us how we can do it also! Like helping people? Love your dog too? This just might be something you are interested in! She also mentioned looking into the Delta Society.
___________________________________________________________
PET SHELTER OF THE WEEK
Mike Fry Executive Director of Animal Ark which is the largest No-Kill shelter in Minnesota joins us to talk about their organization. Mike is also a radio show co-host on Animal Wise Radio! The show is nationally syndicated so check out the web site for availability and they also podcast so you can get more great information on the No-Kill initiative! I think what they are doing is FANTASTIC! Don't forget to check out some of the animals they have for adoption.
___________________________________________________________
Dr. Nancy Kay DVM, recipient of the American Animal Hospital Association 2009 Animal Welfare and Humane Ethics Award and  author of "Speaking for Spot:Be the Advocate Your Dog Needs to Live a Happy, Healthy, Longer Life" joins us for the Vet topic of the week. "More bark for your buck" – ways to save money on your pet's healthcare. Great topic for these difficult economic times!  Visit www.speakingforspot.com to find a comprehensive list of organizations that may be able to offer financial assistance for veterinary care, to join the Speaking for Spot mailing list, and to follow Dr. Kay's blog which assists pet lovers with health-care decision making on many levels!
___________________________________________________________
QUICK UPDATES & LINKS
Eagle Crashes through Truck Windshield on Freeway - This happened in Nevada on I-80
Here is the FDA link to our Peanut Recall info. (it's at the bottom of the page.)
_______________________________
Listen to the My Buddy Butch Talk Show #30 now Join us again next week! As always our shows are available on Apple iTunes and on our own site. All shows stream 24/7 on our site and can be downloaded in mp3 format from our BTR site.  

We are trying to do what we can in this tough economy so we are extending the free Shipping for My Buddy Butch until March 31st at our site by entering the Code MD0908 at Mybuddybutch.com  Enter the code in the "Comments" box! Or better yet use the Toll FREE number to order 800-247-6553! Read More Reviews of the Book HERE!
You can also request an "Autographed" copy!
BOOK OF THE YEAR AWARD FINALIST – FORWARDÂ MAGAZINE (Winner announced in May 2009)Â 
WINNER – MOM'S CHOICE AWARD – ADULT NON-FICTION.
USA BEST BOOKS AWARD FINALIST – USA BOOK NEWS!
HONORABLE MENTION – NEW YORK BOOK FESTIVAL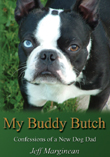 My Buddy Butch – Confessions of a New Dog Dad is a family friendly book and makes a great gift!   AMAZON.COM
, BORDERS BOOKS, BARNES & NOBLEÂ Â