It's a rare treat to talk to someone at length on the the show about their love of animals the way I did tonight. Thanks to Pat Whitacre of Best Friends Animal Sanctuary and National Geographic's "DogTown" Series for sharing his experiences and life changing visit to Best Friends.  With a bachelor's degree in psychology and a master's degree in biophysics and genetics Pat is able to utilize his gift of knowledge to help troubled animals get ready for their "forever home" and the people that will love them. Pat knows first hand the techniques and patience it takes to help dogs with aggressive and behavioral problems find their way back to a happy healthy life. Pat feels the "Best Friends mission and environment provide an incredible opportunity for learning and growth for both homeless animals and those who seek to improve the quality of their lives." Thanks again Pat you are welcome back any time! Also, thanks and congratulations to National Geographic for producing yet another fantastic series! Don't for get to catch the season premier of DogTown on Friday March 20th at 10 PM on NatGeo!
___________________________________________________________
PET SHELTER OF THE WEEK
Unfortunately our Pet Rescue of the Week ran into a problem but we will try to have Tom Flynn of the National Dachshund Rescue rescheduled for next week if we can!
___________________________________________________________
Dr. Nancy Kay DVM, recipient of the American Animal Hospital Association 2009 Animal Welfare and Humane Ethics Award and  author of "Speaking for Spot:Be the Advocate Your Dog Needs to Live a Happy, Healthy, Longer Life" joins us for the Vet topic of the week: "The Ten Commandments of Veterinary visits."  Visit www.speakingforspot.com to find a comprehensive list of organizations that may be able to offer financial assistance for veterinary care, to join the Speaking for Spot mailing list, and to follow Dr. Kay's blog which assists pet lovers with health-care decision making on many levels!
___________________________________________________________
QUICK UPDATES & LINKS
Ohio Petland Pet Stores Accused of Scheme to Sell Sick Puppies - I try to be impartial until all the facts come out, but I have no reason to doubt the Humane Society of the United States.
OK OHIO Let's get with the program!!!!!!!! This Ohio Law on the books that deems pit-bulls vicious is an OUTRAGE! As more of this goes on here it makes me SICK to even be here!!!!! How long is it going to take you "educated legislators" to realize that it is NOT THE DOG but the PEOPLE training and teaching these dogs to be vicious that are to blame!
Here is the FDA link to our Peanut Recall info. (it's at the bottom of the page.)
_______________________________
Listen to the My Buddy Butch Talk Show #31 now Join us again next week! As always our shows are available on Apple iTunes and on our own site. All shows stream 24/7 on our site and can be downloaded in mp3 format from our BTR site.  

We are trying to do what we can in this tough economy so we are extending the free Shipping for My Buddy Butch until March 31st at our site by entering the Code MD0908 at MyBuddyButch.com  Enter the code in the "Comments" box! Or better yet use the Toll FREE number to order 800-247-6553! Read More Reviews of the Book HERE!
You can also request an "Autographed" copy!
BOOK OF THE YEAR AWARD FINALIST – FORWARDÂ MAGAZINE (Winner announced in May 2009)Â 
WINNER – MOM'S CHOICE AWARD – ADULT NON-FICTION.
USA BEST BOOKS AWARD FINALIST – USA BOOK NEWS!
HONORABLE MENTION – NEW YORK BOOK FESTIVAL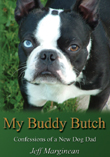 My Buddy Butch – Confessions of a New Dog Dad is a family friendly book and makes a great gift!   AMAZON.COM
, BORDERS BOOKS, BARNES & NOBLEÂ Â