Hi…what a busy few days. Sorry for the delay in getting this out to you but it has been run, run, run since the show. Now that the good weather is here it just seems like there is not enough hours in the day anymore as I'm sure many of you feel the same way! OK…On with it…
Susie Aga, Certified Canine Behavior and Training Specialist, and pet expert for Turner Broadcasting (TBS) joined us to talk about her experience as a leader in the field of animal behavior. Do you you know what to do if you encounter a dog on your liesurely summer stroll? Do you know the warning signs that a dog might attack you? Do you know what to do if a Dog should charge directly at you? Well Susie gives us a few tips on how to handle this situation and what to look for! Also, Don't forget to check out Susie's Radio show The Animal Hour and you can also see her articles in the Petlanta Magazine available in… of course Atlanta Georgia and surrounding areas. Susie also has a great web site for her training and day care service.
 _______________________________
RESCUE SHELTER OF THE WEEK
Susan Smith of the Franklin County Dog Shelter near Columbus Ohio joined us to talk about the many animals that they have saved! They place over 13,000 dogs an puppies each year, making them one of the largest rescue shelters in the midwest! They have a great Web Site so have a look and if you are in the surrounding Columbus area check out the adoptions they have available! 
_______________________________
VETERINARIAN TOPIC OF THE WEEK
Dr. Donna Spector has done countless reasearch studies over the years on animals so she knows what she is talking about when it comes to caring for your pet during these stressful summer months. Dr. Donna starts a multi part series on Summer Troubles and what to watch out for to keep your pet safe, happy, and healthy while enjoying the warm weather!
_______________________________
QUICK UPDATE
I will be apperaing at the American Library Association Conference   in Chicago on July 11th and 12th for 2 book signings, to chat about the show, and to talk about your pets! Join me at the Mom's Choice Award's Exhibit and pick up our award winning book My Buddy Butch – Confessions of a New Dog Dad and say hi!
_______________________________
 
Listen to the My Buddy Butch Talk Show #41 now Join us again next week! As always our shows are available on Apple iTunes and on our own site. All shows stream 24/7 on our site and can be downloaded in mp3 format from our BTR site.  

Purchase our AWARD WINNING BOOK at MyBuddyButch.com ! Or better yet use the Toll FREE number to order 800-247-6553! You can ask for an autographed copy if you wish! Read More Reviews of the Book HERE!
You can also request an "Autographed" copy!
DOVE FOUNDATION AWARD FOR "FAMILY FRIENDLY" CONTENT ALL AGES 
BOOK OF THE YEAR AWARD FINALIST - FORWARDÂ MAGAZINE (Winner announced in May 2009)Â 
WINNER – MOM'S CHOICE AWARD - ADULT NON-FICTION.
USA BEST BOOKS AWARD FINALIST - USA BOOK NEWS!
HONORABLE MENTION – NEW YORK BOOK FESTIVAL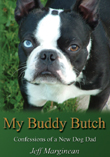 My Buddy Butch – Confessions of a New Dog Dad is a family friendly book and makes a great gift!   AMAZON.COM
, BORDERS BOOKS, BARNES & NOBLE