John Garcia joins us to talk about the new season of DOGTOWN on the National Geographic channel. John is one of the managers at Best Friend's Animal Sanctuary in Utah and has had the opportunity to work with some of the pit bulls that were seized in the Michael Vick dogfighting ring. Pictured here with "Georgia," John is just the type of gentle soul that it takes to rehabilitate these trained fighting dogs into loving, caring, docile pets. With the patience of Job, John cares for and evaluates these dogs with the hope and determination it takes to retrain them to enter a loving home. John has the poise and talent in this area that many people much older than him are still trying to master. He is truly gifted and has much to say (and teach) along with all of the other trainers in this new season of Dogtown. Fridays 10pm ET/PT on National Geographic channel.
________________________________
 What would you do if forced from your home, not being able to take your pet with you, during a natural disaster only to find months or a year later that your pet has been rescued and sent across the country to be adopted by another family? Now What? Well that is exactly what happened to many of the people dealing with the aftermath of the Katrina Hurricane and flood in New Orleans. Director Geralyn Pezanoski joins us to discuss her new film "MINE" which gives us a better understanding of the trauma suffered by the people and animals displaced by this disaster and the painful steps of putting their lives back together. Imagine the circumstances you would be in if you had to sue someone to get YOUR OWN PET back! There are no right or wrong answers here but see the film and see just what takes place. Released for sale/rent on iTunes January 8th and premiering in San Francisco, "MINE" with be aking it's way to theaters across the country. 
________________________________ 
VET TOPIC OF THE WEEK
This week Dr. Patrick updates us on the problem that his dog Cardiff has had with his immune system. More on what "IMHA" is and how it can affect your pet as well as the foods that Crdiff is eating to help boost his immune system. Listen in to his comments and also check out Cardiff's IMHA Blog where he talks about this ailment that required a 2 day hospital stay!
Also Dr. Patrick gives us an update on the H1N1 Virus and how it is spreading between Humans and animals. We are following this closely…
________________________________
NEWS LINKS
MINE – a new film about the aftermath of Hurrican Katrina and the flood that siplaces so many people and pets. OUTSTANDING film and you can buy or rent it on iTunes Here!
GRAMMYS – Well I votes on the Grammys again last week I can hardly believe it's that time again. There was so much good material out there it took me a whole week to listen to all of it! It should be a great show this year on January 31st on CBS!
AKC/EUKANUBA CHAMPIONSHIP  - I was in California to check out this Dog Show in Sunny California! We will be playing interviews on the show as the Air Date approaches!
ANIMALS TAUGHT ME THAT - Dr. Kim Bloomer's New Book will be Released this month – Dr. Kim is a great friend of our show and she is a veterinary naturopath.
SENIORS FOR LIVING - I had the honor of being quoted in an article on this great web site for senior citizens. I had a very nice conversation with Marianne Thomas about how having a pet can help seniors with every day life. I have seen the effect having a dog has had on my 86 year old father, so I can speak first hand on the benefits for seniors that adding this new "family member" can bring to their lives! See the article "25 Reasons Why A Pet Helps You Stay Young At Heart." 
NATIONAL GEOGRAPHICs DOWGTOWN - is starting a new season in January.
AKC - American Kennel Club introduces more new breeds to their lineup of over 170!
________________________________
QUICK UPDATES
My Buddy Butch – Confessions of a New Dog Dad is now on Ebook for your favorite reader including the popular KINDLE! Click here for details and formats! Now available on Amazon.com for your Kindle reader!
RESCUE SHELTERS AROUND THE COUNTRY: Do you know of a reputable pet rescue shelter in your local area? Are you a Rescue Shelter your self? We would love to interview you on our Weekly Pet Rescue Shelter segment on the show and here on our blog! You can be big or small, breed specific or all breed, rescue dogs, and rescue other animals as well! Contact us at info@mybuddybutch.com and put "RESCUE" in the subject line!
MBB RADIO SHOW TOPICS: Do you have a favorite celebrity pet owner? Do you have an important topic that you would like us to cover on the show? Do you have a question about your pet's care that you would like to ask? Don't hesitate to contact us and let us know! info@mybuddybutch.com
PET OR ANIMAL SICKNESS IN YOUR PART OF THE COUNTRY: Are you a Veterinarian that has noticed a particular problem or sickness in animals and pets in your part of the country? Let us know about it and we can announce it and/or have you on the show to talk about it! info@mybuddybutch.com
LOCAL FUNCTION HAPPENING IN YOUR AREA? We want to know about it and we will even announce it on the show! Email your announcement to us at info@mybuddybutch.com
______________________________
Listen to the My Buddy Butch Talk Show #66 now Join us again next week! As always our shows are available on Apple iTunes and Zune as well as on our own site. All shows stream 24/7 on our site and can be downloaded in mp3 format from our BTR site. 
Purchase our AWARD WINNING BOOK at MyBuddyButch.com ! Or better yet use the Toll FREE number to order 800-247-6553! You can ask for an autographed copy if you wish! Read More Reviews of the Book HERE!
You can also get My Buddy Butch on EBook!
DOVE FOUNDATION AWARD FOR "FAMILY FRIENDLY" CONTENT ALL AGES! 
BOOK OF THE YEAR AWARD FINALIST - FORWARD MAGAZINE 
WINNER – MOM'S CHOICE AWARD - ADULT NON-FICTION.
USA BEST BOOKS AWARD FINALIST - USA BOOK NEWS!
HONORABLE MENTION – NEW YORK BOOK FESTIVAL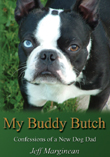 My Buddy Butch is an Award Winning Book! 
My Buddy Butch – Confessions of a New Dog Dad is a family friendly book and makes a great gift!  AMAZON.COM
 -  BORDERS BOOKS - BARNES & NOBLE