David Frei joins us again for Part 2 of our discussion as we take a closer look at the history of the Westminster Kennel Club and its origins as well as discuss the top dogs in the country heading into the Westminster Dog Show for this Tournament of Champions!  The show will air February 15th and 16th from Madison Square Garden and will be televised on
USA Network and CNBC. See listings for air times
. 
________________________________
Award Winning Author Jenny Pavlovic joins us to talk about her book "8 State Hurricane Kate" and her new book to be released in March "The Not Without My Dog Resource and Record Book." Based on her experience helping to rescue the animals that had to be left behind in the floods of New Orleans, Jenny has made it easy and fun to collect the information for your pet that can be used in the event of an emergency. This instructional manual will guide you through the steps to collect the most important information you will need if your pet is ever lost.
________________________________
RESCUE SHELTER OF THE WEEK
Dusty Rainbolt runs the adoption center in Highland Village, Texas and the center is based out of Garland. They help both dogs and cats, but since Dusty is a cat expert I thought we would focus on helping the cats this week.  Dusty also talks about the "Phoenix Project" which has recently been established in which AAT has partnered with the local battered womens shelter to provide temporary housing for pets of women seeking escape from an abusive relationship. Check out their Web Site and see some of the great things they are doing! 
________________________________
Sometimes my mouth speaks faster than my brain is working! Must be the snow or the  activity getting ready for Westminster but at the top of the show, after reading through a list of four Barbara's one Bonnie and one Betty, I mentioned Rufus' owner as Barbara Babikian. It's actually Barbara Bishop and as David and I were talking I realized my mistake when he correctly mention Barb Bishop as Rufus' Owner! I suppose I should read my schedule rather than trying to procede by memory! Anyway my apologies for the mixup. BARBARA BISHOP was kind enough to drop by and talk to us as an owner of a past Westminster Winner of Best in Show - RUFUS! Barbara's passion for the Bull terrier breed is quite evident as she discusses the breed standard and how the responsible breeders are trying to breed out the "sharpness" or "aggressiveness" of the breed. She also mentions how some feel that breeders are doing a disservice to the Bull Terrier breed by doing this and that RUFUS is not a good representative because he lacks this aggressive quality. Well, as a HUGE fan of the Bullys (and RUFUS) myself, I think that is absolutely ridiculous and completely undefensable so I'll tell those who feel this way that when one of the noted "Aggressive" Bull Terriers wins as many Best in Breeds as RUFUS has, and then Westminster on top of it, only then will I entertain that thought! Obviously the judges of the most prestigious shows in the world feel that RUFUS' temperment is perfect! Barbara has done it right and continues her love for the breed in the proper fashion and I salute her! Looking forward to seeing you and RUFUS in New York Barbara!
 ________________________________
VET TOPIC OF THE WEEK
 This week Dr. Patrick begins his discussion on his research into the past 5 breeds that have won "Best in Show" at Westminster and some of the breed specific ailments that can crop up. The responsible breeders that have dogs entered in Westminster are well aware of these particular problems that can arise in their respective breed and they do much testing and careful selection to try and breed issues out of their lines.  These are the most knowledgable people on the planet with regard to their specific breed, which is why we always remind people to not purchase puppy mill dogs and to seek out a reputable rescue organization or breeder for the breed they are interested in. Search for the breed specific clubs which can refer you to a reputable rescue org or breeder in your area. You can do a quick Google Search and find the club for the breed you like or even go to the AKC website. These responsible breeders are more interested in the preservation of the breed standard and breeding healthy dogs than they are breeding for profit.  They can help you with any questions you may have during the life of your new addition also! 
________________________________
________________________________
NEWS LINKS
2010 Pet Writers Conference in New York City - Pet Expert Charlotte Reed is hosting the annual Pet writing conference in New York at the Penn Hotel. If you have any interest in writing about animals this is a must attend event and it's held at Westminster time every year so you can catch the dog show also!
New iPhone App from Silver Lining Ideas - donates 100% of proceeds to the International Fund for Animal Welfare (IFAW)
I'M QUOTED IN ANOTHER ARTICLE - FLYING WITH PETS on the Saavy Explorer about an experience Dad had while traveling with Buttons to Florida.
DOG CAUGHT ON ICE FLOE TRAVELS 100 Miles - See the Video – this is incredible!
WESTMINSTER KENNEL CLUB - has been gearing up for this year's show in February and we are gearing up to bring you some great interviews. Stay tuned!
MINE – a new film about the aftermath of Hurrican Katrina and the flood that displaces so many people and pets. OUTSTANDING film and you can buy or rent it on iTunes Here!
ANIMALS TAUGHT ME THAT - Dr. Kim Bloomer's New Book will be Released this month – Dr. Kim is a great friend of our show and she is a veterinary naturopath.
SENIORS FOR LIVING - I had the honor of being quoted in an article on this great web site for senior citizens. I had a very nice conversation with Marianne Thomas about how having a pet can help seniors with every day life. I have seen the effect having a dog has had on my 86 year old father, so I can speak first hand on the benefits for seniors that adding this new "family member" can bring to their lives! See the article "25 Reasons Why A Pet Helps You Stay Young At Heart." 
AKC - American Kennel Club introduces more new breeds to their lineup of over 170!
________________________________
QUICK UPDATES
Sign up for our FREE NEWSLETTER the "My Buddy Butch Chronicle"  I will be giving a run down on each weekly show, adding articles, and featuring one rescue organization each week. We will be adding more features as time goes on so subscribe and check it out! We also have a classified section and also have sponsorships available!
My Buddy Butch – Confessions of a New Dog Dad is now on Ebook for your favorite reader including the popular KINDLE! Click here for details and formats! Now available on Amazon.com for your Kindle reader!
RESCUE SHELTERS AROUND THE COUNTRY: Do you know of a reputable pet rescue shelter in your local area? Are you a Rescue Shelter your self? We would love to interview you on our Weekly Pet Rescue Shelter segment on the show and here on our blog! You can be big or small, breed specific or all breed, rescue dogs, and rescue other animals as well! Contact us at info@mybuddybutch.com and put "RESCUE" in the subject line!
MBB RADIO SHOW TOPICS: Do you have a favorite celebrity pet owner? Do you have an important topic that you would like us to cover on the show? Do you have a question about your pet's care that you would like to ask? Don't hesitate to contact us and let us know! info@mybuddybutch.com
PET OR ANIMAL SICKNESS IN YOUR PART OF THE COUNTRY: Are you a Veterinarian that has noticed a particular problem or sickness in animals and pets in your part of the country? Let us know about it and we can announce it and/or have you on the show to talk about it! info@mybuddybutch.com
LOCAL FUNCTION HAPPENING IN YOUR AREA? We want to know about it and we will even announce it on the show! Email your announcement to us at info@mybuddybutch.com
______________________________
Listen to the My Buddy Butch Talk Show #71 now Join us again next week! As always our shows are available on Apple iTunes and Zune as well as on our own site. All shows stream 24/7 on our site and can be downloaded in mp3 format from our BTR site. 
Purchase our AWARD WINNING BOOK at MyBuddyButch.com ! Or better yet use the Toll FREE number to order 800-247-6553! You can ask for an autographed copy if you wish! Read More Reviews of the Book HERE!
You can also get My Buddy Butch on EBook!
DOVE FOUNDATION AWARD FOR "FAMILY FRIENDLY" CONTENT ALL AGES! 
BOOK OF THE YEAR AWARD FINALIST - FORWARD MAGAZINE 
WINNER – MOM'S CHOICE AWARD - ADULT NON-FICTION.
USA BEST BOOKS AWARD FINALIST - USA BOOK NEWS!
HONORABLE MENTION – NEW YORK BOOK FESTIVAL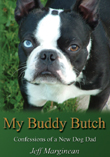 My Buddy Butch is an Award Winning Book! 
My Buddy Butch – Confessions of a New Dog Dad is a family friendly book and makes a great gift!  AMAZON.COM
 -  BORDERS BOOKS - BARNES & NOBLE