This week we discuss the happenings at Westminster. It was great to be in New York working again to see some old freinds and meet some new ones! This has always been a great event and this, being my second year, was no exception. As people are always willing to talk about their pets, few are as knowledgable as those that show their breeds at dog shows. I have learned much about many types of dogs from those who have owned them for many years and I talk to a few of those that I met this year at Madison Square Garden. Take a listen and maybe you might be interested in a couple day trip next year for Valentine's Day!
________________________________
RESCUE SHELTER OF THE WEEK
Donald Helfrisch joined us from the Doberman Rescue of New Mexico for our Rescue of the Week segment. Doberman's are a great breed and were very well represented at Westminster this year but this misunderstood breed often gets a bad rap. Don, as a long time owner of Dobermans, gives us the inside scoop on what this type of dog is all about and also what their rescue organization is up to in New Mexico. They have a great Web Site so check it out and see what they have to offer!
 ________________________________
VET TOPIC OF THE WEEK
 This week Dr. Patrick talks about his first experience at the Westminster Dog Show. As soon as we met up he talked about his game plan and some of the information that he hoped to discuss with the owners of the specific past 10 breeds that have won "Best in Show" at Westminster and some of the breed specific ailments that have been bred out of the lines and some of the problems that still exist.  Listen in to his findings as well as his top 5 favorite things about Westminster.
________________________________

Sign up for our Free Newsletter – The My Buddy Butch Chronicle! 
________________________________
NEWS LINKS
PET FOOD RECALL - Nature's Variety announced a voluntary recall over possible Salmonella contamination. Read about this on the FDA's Web Site!
2010 Pet Writers Conference in New York City - Pet Expert Charlotte Reed hosted this event and it was a great success. Look into next year if you have any interest at all about writing. 
New iPhone App from Silver Lining Ideas - donates 100% of proceeds to the International Fund for Animal Welfare (IFAW)
I'M QUOTED IN ANOTHER ARTICLE - FLYING WITH PETS on the Saavy Explorer about an experience Dad had while traveling with Buttons to Florida.
MINE – a new film about the aftermath of Hurrican Katrina and the flood that displaces so many people and pets. OUTSTANDING film and you can buy or rent it on iTunes Here!
ANIMALS TAUGHT ME THAT - Dr. Kim Bloomer's New Book will be Released this month – Dr. Kim is a great friend of our show and she is a veterinary naturopath.
SENIORS FOR LIVING - I had the honor of being quoted in an article on this great web site for senior citizens. I had a very nice conversation with Marianne Thomas about how having a pet can help seniors with every day life. I have seen the effect having a dog has had on my 86 year old father, so I can speak first hand on the benefits for seniors that adding this new "family member" can bring to their lives! See the article "25 Reasons Why A Pet Helps You Stay Young At Heart." 
AKC - American Kennel Club introduces more new breeds to their lineup of over 170!
________________________________
QUICK UPDATES
Sign up for our FREE NEWSLETTER the "My Buddy Butch Chronicle"  I will be giving a run down on each weekly show, adding articles, and featuring one rescue organization each week. We will be adding more features as time goes on so subscribe and check it out! We also have a classified section and also have sponsorships available!
My Buddy Butch – Confessions of a New Dog Dad is now on Ebook for your favorite reader including the popular KINDLE! Click here for details and formats! Now available on Amazon.com for your Kindle reader!
RESCUE SHELTERS AROUND THE COUNTRY: Do you know of a reputable pet rescue shelter in your local area? Are you a Rescue Shelter your self? We would love to interview you on our Weekly Pet Rescue Shelter segment on the show and here on our blog! You can be big or small, breed specific or all breed, rescue dogs, and rescue other animals as well! Contact us at info@mybuddybutch.com and put "RESCUE" in the subject line!
MBB RADIO SHOW TOPICS: Do you have a favorite celebrity pet owner? Do you have an important topic that you would like us to cover on the show? Do you have a question about your pet's care that you would like to ask? Don't hesitate to contact us and let us know! info@mybuddybutch.com
PET OR ANIMAL SICKNESS IN YOUR PART OF THE COUNTRY: Are you a Veterinarian that has noticed a particular problem or sickness in animals and pets in your part of the country? Let us know about it and we can announce it and/or have you on the show to talk about it! info@mybuddybutch.com
LOCAL FUNCTION HAPPENING IN YOUR AREA? We want to know about it and we will even announce it on the show! Email your announcement to us at info@mybuddybutch.com
______________________________
Listen to the My Buddy Butch Talk Show #72 now Join us again next week! As always our shows are available on Apple iTunes and Zune as well as on our own site. All shows stream 24/7 on our site and can be downloaded in mp3 format from our BTR site. 
Purchase our AWARD WINNING BOOK at MyBuddyButch.com ! Or better yet use the Toll FREE number to order 800-247-6553! You can ask for an autographed copy if you wish! Read More Reviews of the Book HERE!
You can also get My Buddy Butch on EBook!
DOVE FOUNDATION AWARD FOR "FAMILY FRIENDLY" CONTENT ALL AGES! 
BOOK OF THE YEAR AWARD FINALIST - FORWARD MAGAZINE 
WINNER – MOM'S CHOICE AWARD - ADULT NON-FICTION.
USA BEST BOOKS AWARD FINALIST - USA BOOK NEWS!
HONORABLE MENTION – NEW YORK BOOK FESTIVAL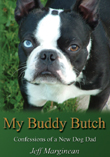 My Buddy Butch is an Award Winning Book! 
My Buddy Butch – Confessions of a New Dog Dad is a family friendly book and makes a great gift!  AMAZON.COM
 -  BORDERS BOOKS - BARNES & NOBLE