Hi again! We're back! Quite an eventful week. Our main server crashed so I figured I would just work to update EVERYTHING at once and add in a hot spare or two so we don't have this problem again. The way my mind works is that I would rather do it now, before things start getting Hot and I don't have the time for it. Besides that with spring around the corner I don't want to be in the studio fixing computers on a nice sunny day! OK her is the post I missed last week!
 Dr. Karen Johnson, a VP of the Banfield Pet Hospital with 750 locations across the country. Dr. Johnson talks to us about the Pet Hospital and about the dental health of our pets. There are many issues that can arise from letting your pets teeth go uncleaned and untreated if they have an issue. Listen in as Dr. Johnson tells us about Banfield and how to get started taking care of your pets teeth.
________________________________
Josh Abrams of Dogasaur.com drops in to talk about the social networking Web Site that started one year ago this month. Josh is also a trainer so he has some great insights as to the information people are looking for when it comes to their dogs!  The site is naturally dedicated to hooking up people with dogs and is a place for everyone to share their experience.
________________________________
RESCUE SHELTER OF THE WEEK
I was introduced to this organization by a new friend Joanne Anderson whom I met at Westminster in 2009 through another journalist and photographer friend Marty Van Duyne. Joanne is a writer of the "Pets, Pets, Pets" Column in many newspapers and featured the story of "Manley." Read Joanne's story in the Amityville Record.  Jane of Northeast Boston Rescue talked to us for our Rescue Shelter of the week segment. Jane told us the story of "Manley" a Boston terrier that was found wondering in a bad part of Long Island and was picked up by a dog loving couple…did I mention that Manley was completely blind! Northeast Boston Rescue (NEBTR) is comprised of volunteers based in NY/NJ and PA and serves Boston Terriers in need within reach of our helping hands.  Most dogs in foster care for placement are adolescent to adult dogs in need of re-homing in life for a multitude of reasons and will need caring hands to guide them as they transition into new homes.
 ________________________________
Heidi Ganahl CEO and Founder of Camp Bow Wow joined me for an interview this week to talk about her new book "Tales From The Bark Side" her journey from "Wayward Stray to Top Dog!" She faced some difficult times in her life and her story is inspirational. She will be touring the country this spring to do book signings so if you have a Camp Bow Wow close to you, here is a chance to get over there, meet Heidi and see what they have to offer!
________________________________

Sign up for our Free Newsletter – The My Buddy Butch Chronicle!
________________________________
NEWS LINKS
Have pet, will travel
Pet owners are not parting with their animals when they travel, but are instead taking them along. APPA says about 62% of U.S. households have pets, and companies such as bringfido.com, a pet-travel Web site, are finding that traveling with pets is becoming more common. The Daily Reflector (Greenville, N.C.) (2/20)
West Hollywood votes to prohibit pet-store sales of dogs, cats
The City Council in West Hollywood, Calif., unanimously approved an ordinance banning the sale of dogs and cats in area pet stores. The ban takes effect in September. Los Angeles Times (2/17)
Planet Dog and Stonyfield partner on customer rewards
Stonyfield Farm has teamed up with Planet Dog, the socially responsible pet company, on a customer-loyalty program. Points earned by buying Stonyfield yogurt can be redeemed for Planet Dog's Orbee-Tuff Ball. The Gourmet Retailer (2/15)
PET FOOD RECALL - Nature's Variety announced a voluntary recall over possible Salmonella contamination. Read about this on the FDA's Web Site!
I'M QUOTED IN ANOTHER ARTICLE - FLYING WITH PETS on the Saavy Explorer about an experience my Dad had while traveling with Buttons to Florida.
ANIMALS TAUGHT ME THAT - Dr. Kim Bloomer's New Book will be Released this month – Dr. Kim is a great friend of our show and she is a veterinary naturopath.
SENIORS FOR LIVING - I had the honor of being quoted in an article on this great web site for senior citizens. I had a very nice conversation with Marianne Thomas about how having a pet can help seniors with every day life. I have seen the effect having a dog has had on my 86 year old father, so I can speak first hand on the benefits for seniors that adding this new "family member" can bring to their lives! See the article "25 Reasons Why A Pet Helps You Stay Young At Heart." 
AKC - American Kennel Club introduces more new breeds to their lineup of over 170!
________________________________
QUICK UPDATES
Sign up for our FREE NEWSLETTER the "My Buddy Butch Chronicle"  I will be giving a run down on each weekly show, adding articles, and featuring one rescue organization each week. We will be adding more features as time goes on so subscribe and check it out! We also have a classified section and also have sponsorships available!
My Buddy Butch – Confessions of a New Dog Dad is now on Ebook for your favorite reader including the popular KINDLE! Click here for details and formats! Now available on Amazon.com for your Kindle reader!
RESCUE SHELTERS AROUND THE COUNTRY: Do you know of a reputable pet rescue shelter in your local area? Are you a Rescue Shelter your self? We would love to interview you on our Weekly Pet Rescue Shelter segment on the show and here on our blog! You can be big or small, breed specific or all breed, rescue dogs, and rescue other animals as well! Contact us at info@mybuddybutch.com and put "RESCUE" in the subject line!
MBB RADIO SHOW TOPICS: Do you have a favorite celebrity pet owner? Do you have an important topic that you would like us to cover on the show? Do you have a question about your pet's care that you would like to ask? Don't hesitate to contact us and let us know! info@mybuddybutch.com
PET OR ANIMAL SICKNESS IN YOUR PART OF THE COUNTRY: Are you a Veterinarian that has noticed a particular problem or sickness in animals and pets in your part of the country? Let us know about it and we can announce it and/or have you on the show to talk about it! info@mybuddybutch.com
LOCAL FUNCTION HAPPENING IN YOUR AREA? We want to know about it and we will even announce it on the show! Email your announcement to us at info@mybuddybutch.com
______________________________
Listen to the My Buddy Butch Talk Show #74 now Join us again next week! As always our shows are available on Apple iTunes and Zune as well as on our own site. All shows stream 24/7 on our site and can be downloaded in mp3 format from our BTR site. 
Purchase our AWARD WINNING BOOK at MyBuddyButch.com ! Or better yet use the Toll FREE number to order 800-247-6553! You can ask for an autographed copy if you wish! Read More Reviews of the Book HERE!
You can also get My Buddy Butch on EBook!
DOVE FOUNDATION AWARD FOR "FAMILY FRIENDLY" CONTENT ALL AGES! 
BOOK OF THE YEAR AWARD FINALIST - FORWARD MAGAZINE 
WINNER – MOM'S CHOICE AWARD - ADULT NON-FICTION.
USA BEST BOOKS AWARD FINALIST - USA BOOK NEWS!
HONORABLE MENTION – NEW YORK BOOK FESTIVAL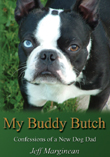 My Buddy Butch is an Award Winning Book! 
My Buddy Butch – Confessions of a New Dog Dad is a family friendly book and makes a great gift!  AMAZON.COM
 -  BORDERS BOOKS - BARNES & NOBLE