OK, it was great to get back to the show again. I hate it when things pop up and prevent us from doing what love to do and that is talk to interesting people and bring you a few tid bits of information each week. Our rescue of the week interview ran into a last minute problem (it happens…) and could not call in but we will resume again next week. On with the show!
I know that I joke around about Ohio reagrding our weather a lot but living here I have a unique perspective. Ohio is one of the great states and I cannot deny this, which is why I was not surprised to find out that Jane Miller, author of Healing Companions is right here in my neck of the woods. There are many great, nationally known people (and Dogs) living right here in Ohio and Jane proves this point. The remarkeable work that she is doing for those suffering from PTSD or Post Traumatic Stress Disorder and others with psychological issues is truly amazing. She will be the first to tell you that the dogs she has introduced into the lives of people, some of who are veterans, are the true "healers." The things that Jane has trained these service dogs to do is remarkable and she talks with me about this and her experience in this field of work. She has many speaking engagements and you can see all of them at her website Healing Companions!
________________________________
With our coverage of the best dogs shows in the world, I thought it would be interesting to see what Crufts Dog Show that our freinds in the UK held March 11th – 13th has to offer. They have a great website and have many things happening for the show. Listen in to hear who won and check out the web site for more information and highlights of the show. Perhaps if we have a few more sheckles in the jar next year we can take a trip "Across the Pond" to check it out! There are some specific differences between thier show and our shows here in the United States!
________________________________
 VET TOPIC OF THE WEEK
Dr. Patrick joins us to talk about the treatments that he has been giving "Buddah" the cute little French Bulldog that was severely burned while trying to crawn underneath a car and got caught underneath a scalding hot exhaust system! Buddah is doing well and is responding nicely to treatment. You can also check out the series of articles that Dr. Patrick is posting on the Examiner Site. He also talks about a recent Hawk attack on a little 8 pound dog and reminds us to stay alert to help protect our buddies!
 ________________________________

Sign up for our Free Newsletter – The My Buddy Butch Chronicle!
________________________________
NEWS LINKS
PET FRIENDLY HOTELS FROWN ON DOG POOP (Hariet Baskas MSNBC.com) – Really? They must be kidding. I thought dodging pet poop was part of the experience, part of the essence, and yes part of the BONDING process that makes hotels love it when we bring our pets! I don't mean BONDING poop to the bottom of my shoes! I'm with you Hariet, if people can't follow the rules of a hotel STAY HOME! It's the few that make it bad for the rest of us.
CALIFORNIA PONDERING 'ANIMAL ABUSERS REGISTRY'  – As reported in an article by Alison Stateman in LA on Time's blog, California State representative Dean Flores introduced this bill in late February but during a time where not only the state has financial trouble but pet owners are also struggling, can it pass when it needs to be funded by tax dollars? Great idea for the registry…let's watch this one!
FLORIDA TO ALLOW BREED SPECIFIC LEGISLATION - (From Pet Product news intl.)Here we go again. I'm getting really sick of talking about this… Senate Bill 1276, sponsored by Sen. Tony Hill, D-Jacksonville, allows "any local government [to place] further restrictions or additional requirements on owners of dangerous dogs." My Buddy Butch is a very dangerous and deadly dog… to squirrels….
PET FOOD RECALL UPDATED MARCH 9, 2010 - Nature's Variety announced a voluntary recall over possible Salmonella contamination. Read about this on the FDA's Web Site!
ANIMALS TAUGHT ME THAT - Dr. Kim Bloomer's New Book will be Released this month – Dr. Kim is a great friend of our show and she is a veterinary naturopath.
________________________________
MY PRESS
SAAVY EXPLORER ARTICLE - FLYING WITH PETS on the Saavy Explorer about an experience my Dad had while traveling with Buttons to Florida.
SENIORS FOR LIVING - I had the honor of being quoted in an article on this great web site for senior citizens. I had a very nice conversation with Marianne Thomas about how having a pet can help seniors with every day life. I have seen the effect having a dog has had on my 86 year old father, so I can speak first hand on the benefits for seniors that adding this new "family member" can bring to their lives! See the article "25 Reasons Why A Pet Helps You Stay Young At Heart." 
Date Wanted – Must Love Dogs and Butch! - I was included in an article about Dogs and Dating! Two of my favorite subjects! Dating is tough enough for me with my schedule but now any girl I meet has to pass Butch's test before we can go on a date!
________________________________
QUICK INFO
Sign up for our FREE NEWSLETTER the "My Buddy Butch Chronicle"  I will be giving a run down on each weekly show, adding articles, and featuring one rescue organization each week. We will be adding more features as time goes on so subscribe and check it out! We also have a classified section and also have sponsorships available!
My Buddy Butch – Confessions of a New Dog Dad is now on Ebook for your favorite reader including the popular KINDLE! Click here for details and formats! Now available on Amazon.com for your Kindle reader!
RESCUE SHELTERS AROUND THE COUNTRY: Do you know of a reputable pet rescue shelter in your local area? Are you a Rescue Shelter your self? We would love to interview you on our Weekly Pet Rescue Shelter segment on the show and here on our blog! You can be big or small, breed specific or all breed, rescue dogs, and rescue other animals as well! Contact us at info@mybuddybutch.com and put "RESCUE" in the subject line!
MBB RADIO SHOW TOPICS: Do you have a favorite celebrity pet owner? Do you have an important topic that you would like us to cover on the show? Do you have a question about your pet's care that you would like to ask? Don't hesitate to contact us and let us know! info@mybuddybutch.com
PET OR ANIMAL SICKNESS IN YOUR PART OF THE COUNTRY: Are you a Veterinarian that has noticed a particular problem or sickness in animals and pets in your part of the country? Let us know about it and we can announce it and/or have you on the show to talk about it! info@mybuddybutch.com
LOCAL FUNCTION HAPPENING IN YOUR AREA? We want to know about it and we will even announce it on the show! Email your announcement to us at info@mybuddybutch.com
______________________________
Listen to the My Buddy Butch Talk Show #75 now Join us again next week! As always our shows are available on Apple iTunes and Zune as well as on our own site. All shows stream 24/7 on our site and can be downloaded in mp3 format from our BTR site. 
Purchase our AWARD WINNING BOOK at MyBuddyButch.com ! Or better yet use the Toll FREE number to order 800-247-6553! You can ask for an autographed copy if you wish! Read More Reviews of the Book HERE!
You can also get My Buddy Butch on EBook!
DOVE FOUNDATION AWARD FOR "FAMILY FRIENDLY" CONTENT ALL AGES! 
BOOK OF THE YEAR AWARD FINALIST - FORWARD MAGAZINE 
WINNER – MOM'S CHOICE AWARD - ADULT NON-FICTION.
USA BEST BOOKS AWARD FINALIST - USA BOOK NEWS!
HONORABLE MENTION – NEW YORK BOOK FESTIVAL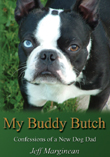 My Buddy Butch is an Award Winning Book! 
My Buddy Butch – Confessions of a New Dog Dad is a family friendly book and makes a great gift!  AMAZON.COM
 -  BORDERS BOOKS - BARNES & NOBLE