The OSCARS! We all love the movies and we all have our favorite actors. Well, do you have a favorite Animal Actor? The American Humane organization is responsible for the caption "No animals were harmed in the making of this film." They are on all of the set where movies are filmed to make sure the animals are protected and they are honoring some of their favorite animal actors with Oscars of their own! Join us as we review the awards!
 ______________________________
PET SHELTER OF THE WEEK
Andi Scott from REDBUD Cavaliers in Oklahoma 
 
I met Andi briefly at Westminster and since Joe had grown so fond of Cavaliers I thought this would be a great segment to talk to her and get some details on the breed and also some rescue shelter information for adoption! Andi is quite an expert on the breed and knows pretty much everything to look out for when adopting one of these cute little pups. She also mentioned the two national organizations which are the best place to inquire about local shelters in your area for this breed. LuckyStar Cavalier Rescue and Cavalier King Charles Spaniel Club – USA. Check out her site and the great rescue sites also! Andi is showing in Texas this weekend. Best of luck and hope you bring home a Win or two!
_______________________________
 Dr. Patrick Mahaney of California Pet Acupuncture and Wellness Vet topic of the week. Dr. Patrick joined us to discuss a compelling issue that is happening to the dogs roaming the street in Iraq!_______________________________
QUICK UPDATES & LINKS
Puppy is Thrown out of Car window  Unbelievable story. How can people do this. The idiocy and cruel nature of some individuals never ceases to amaze me!
Here is the FDA link to our Peanut Recall info. (it's at the bottom of the page.)
_______________________________
Listen to the My Buddy Butch Talk Show #28 now Join us again next week! As always our shows are available on Apple iTunes and on our own site. All shows stream 24/7 on our site and can be downloaded in mp3 format from our BTR site.  

HEY! We Won a 2009 MOM'S CHOICE AWARD FOR ADULT NON-FICTION!We are trying to do what we can in this tough economy so we are extending the free Shipping for My Buddy Butch until March 31st at our site by entering the Code MD0908 at Mybuddybutch.com  Enter the code in the "Comments" box! Or better yet use the Toll FREE number to order 800-247-6553! Read More Reviews of the Book HERE!
You can also request an "Autographed" copy!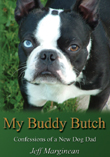 My Buddy Butch – Confessions of a New Dog Dad is a family friendly book and makes a great gift!   AMAZON.COM
, BORDERS BOOKS, BARNES & NOBLEÂ Â