Great Migrations is the largest initiative in National Geographic Society history, and Dr. Rory Wilson was a lead scientific consultant on the project. Wilson's "Daily Diary" tagging device — a miniature device that has been attached to wild animals, including albatrosses, sharks, penguins, badgers and turtles — was used on elephant seals in the Science of Great Migrations episode, where he works with Dr. Flavio Quintana on tracking the underwater migratory habits of the elephant seal.  Wilson is currently chair of aquatic biology at the Institute for Environmental Sustainability, University of Wales Swansea in the UK.
______________________________________
Wag'N Enterprises Contest Give Away With My Buddy Butch
Listen to this week's show to find out how to win an Emergency Response Bandanna for your pet! Wag'N is working with Pet Plan Pet Insurance on a program to donate Oxygen masks to a Fire Rescue Company that needs one to help save pets! You can also create an alert for free to put on your door if they ever need to come to your house.
______________________________________
RESCUE OF THE WEEK 
The Heart of a Horse Foundation and Rescue has introduced more programs to help rescue abused, neglected, and abandoned horses and YOU can help. These great animals are sadly left to die in some very bad conditions and sometimes just set free in the wild. These animals are pets folks, they are not equipped to survive in a wild environment! 
LISTEN TO THIS WEEK'S SHOW ON OUR PLAYER 
______________________________________
VET TOPIC OF THE WEEK
Dr. Jennifer Jellison, Chief of Staff of the North Canton Ohio Banfield joins us to talk about a great program that they are running throught the end of the year. "Seasons of Supper" is a great program where they have teamed with Meals on Wheels to provide food for pets as well as people.
______________________________________
NEWS AND SHOW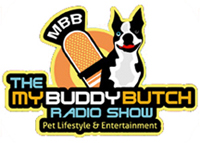 Our news blog is updated several times each week as news stories come in. For all of our news topics and to LISTEN TO THIS WEEK'S SHOW , join us at our MBB Radio home page the NEW MBB RADIO WEB SITE.
Have a news story or announcement? Rescue need specific type of help?Email us at news@mybuddybutch.com and we will try to get it posted for you and we may cover it on the show.
________________________________
QUICK INFO

The My Buddy Butch Daily feature!  Our
Nationally
Syndicated radio show and feature is made available to radio stations across the USA, Canada, and outlying
areas
exclusively through
Talk Shows USA
and is comprised of tips, Vet advice, animal expert advice, some of the things that Butch and I have learned together as well as Celebrity and Best Selling author interviews, and  Rescue facilities from everywhere! If you are a Program Director or sales rep of a radio station
click
the link above or if not, tell your local radio station about us and you may hear us in your
area
soon! 

Sign up for our FREE NEWSLETTER the "My Buddy Butch Chronicle"  I will be giving a run down on each weekly show, adding articles, and featuring one rescue organization each week. We will be adding more features as time goes on so subscribe and check it out! We also have a classified section and also have sponsorships available!
My Buddy Butch – Confessions of a New Dog Dad is now on Ebook for your favorite reader including the popular KINDLE! Click here for details and formats! Now available on Amazon.com for your Kindle reader!
RESCUE SHELTERS AROUND THE COUNTRY: Do you know of a reputable pet rescue shelter in your local area? Are you a Rescue Shelter your self? We would love to interview you on our Weekly Pet Rescue Shelter segment on the show and here on our blog! You can be big or small, breed specific or all breed, rescue dogs, and rescue other animals as well! Contact us at info@mybuddybutch.com and put "RESCUE" in the subject line!
MBB RADIO SHOW TOPICS: Do you have a favorite celebrity pet owner? Do you have an important topic that you would like us to cover on the show? Do you have a question about your pet's care that you would like to ask? Don't hesitate to contact us and let us know! info@mybuddybutch.com
PET OR ANIMAL SICKNESS IN YOUR PART OF THE COUNTRY: Are you a Veterinarian that has noticed a particular problem or sickness in animals and pets in your part of the country? Let us know about it and we can announce it and/or have you on the show to talk about it! info@mybuddybutch.com
LOCAL FUNCTION HAPPENING IN YOUR AREA? We want to know about it and we will even announce it on the show! Email your announcement to us at info@mybuddybutch.com
______________________________
Join us again next week! As always our shows are available on Apple iTunes and Zune as well as on our own site at MBBRadio.com. All shows stream 24/7 on our site and can be downloaded in mp3 format directly from our player. Our Live Thursday night "My Buddy Butch Extras"  can be downloaded from our BTR site as well. 
Purchase our AWARD WINNING BOOK at MyBuddyButch.com ! Or better yet use the Toll FREE number to order 800-247-6553! You can ask for an autographed copy if you wish! Read More Reviews of the Book HERE!
You can also get My Buddy Butch on EBook!
DOVE FOUNDATION AWARD FOR "FAMILY FRIENDLY" CONTENT ALL AGES! 
BOOK OF THE YEAR AWARD FINALIST - FORWARD MAGAZINE 
2 TIME WINNER – MOM'S CHOICE AWARD - ADULT NON-FICTION AND FAMILY FRIENDLY ENTERTAINMENT.
USA BEST BOOKS AWARD FINALIST - USA BOOK NEWS!
HONORABLE MENTION – NEW YORK BOOK FESTIVAL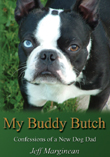 My Buddy Butch is an Award Winning Book! 
My Buddy Butch – Confessions of a New Dog Dad is a family friendly book and makes a great gift!  AMAZON.COM
 -  BORDERS BOOKS - BARNES & NOBLE