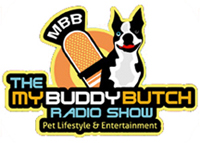 Don't forget to "Like" MBB Radio on Facebook for your chance to win the Disney DVD Treasure Buddies! Our First Winner was Janet Darrah of Massillon Ohio!
This week – Hour 1 – Ever Heard of "Dogtor J?" Well his name is Dr. John B Symes and he is a well known Veterinarian from Alabama that has done extensive research on some of the causes of seizures
in pets. Now Butch has been doing pretty well over the last couple of weeks since his seizure episode, so Jeff have been doing more research on what to be feeding him on a more natural diet. He wants to be sure that he is getting all of the right things in his diet and start doing away with the bad! From over ten years of medical and nutritional research Dr. John B. Symes or "Dogtor J" developed "The G.A.R.D." an elimination diet for the treatment of most conditions afflicting man and his four-legged companions. Dogtor J joins Jeff to talk about how he came up with this diet, what he recommends feeding out Cats and Dogs, and answers Jeff's big question, "If I prepare food for Butch on my own how can I be sure he is getting what he needs?" You'll be surprised to know those folks who are feeding table scraps are not too far from the right answer as long as there is not too much sodium (salt) or things they shouldn't be eating like onion/garlic, grapes raisins …the usual suspects. News and Announcements Killer Whales are sueing SeaWorld and The Pakistanis land a 40 foot long shark!
Hour 2 – National Geographic has a new 10 part series called "Doomsday Preppers." Now you might think that this is a crazy thing for people to be getting ready for the end of the world and Jeff has even joked about not scheduling any meetings past December 21st because of the end of the Mayan calendar but what is YOUR definition of "Doomsday?" Are you prepared for a major Flood in your city? How about a Hurricane like Katrina or a tornado that rips through destroying your city. How about a power outage that lasts for days or weeks. Well these are all things that can happen, they are not funny nor is it Crazy to be prepared for them. Tim Reynolds talks with Jeff about Doomsday Prepping and also about a great invention that he came up with called the "Crovel." Dr. Patrick Mahaney our Vet to the Stars in Hollywood checks in with Jeff to catch up on some of the things he has been up to and discusses the mid-winter safety tips for pets. News and Announcements – Westminster Dog Show is this week and Chicken Jerky from China is back in the news again…
Don't forget to sign up for our FREE Newsletter "The Chronicle." You can catch All our tweets at Twitter! don't forget to check out our MBB RADIO Facebook page. Become a friend of the show! We would love to have you with us. go to our Archive page to download mp3, Apple itunes, or zune versions of all of our shows!
Tweet

PLAY HOUR 1 –


PLAY HOUR 2 –


Throughout the month of January and part of February, Disney will be posting a series of dog training videos right here on MBBRadio Web Site, on our Aftershow Blog and on You Tube at www.youtube.com/DisneyMovies.
Each of the Buddies, along with April Mackin, a trainer at Birds & Animals Unlimited, the company that has trained the Buddies on several of their films, will be featured in the series. Make sure to check the site each week for tips on dog training and examples of how the trainers prepare the Buddies to perform on set!