OK We had a great show BUT I had a bit of an issue! If you listened to the show for the David Frei interview it did not play initially on the show because for some reason it was not processed! OH BROTHER…that's show biz! Anyway, we were able to get the interview edited into the show so it should now be streaming and be available for download. If it does not show up you can always hear the interview on last week's show!
The Westminster Charity for Therapy Dogs!
David Frei, TV commentator for Westminster Dog Show and the NBC Purina National Dog Show . David is America's foremost authority on all breeds of dogs and has been commentating for the Westminster Show for 20 years! He is truely a great guy to talk with and hope he will stop back again in the future. David shares his adventures with UNO the beagle, last years winner of the Westminster show, and other interesting facts. David also talks about Angel on a Leash, a great charity that champions working with therapy dogs in health care facilities, schools, rehab, extended care, correctional institutions, and crisis intervention. 
______________________________
Victoria Schade of Animal Planet's Faithful Friends TV show and the annual PUPPY BOWL joined us to talk about "Life on The Leash" (which is her really well done blog!) and her training DVD and Web Site "New Puppy Now What?" and also her training site "GoodDogObedience.com" Victoria knows more than a thing or two about dogs so we can't wait to have her back when her new book  "Bonding With Your Dog" comes out in April. Best of Luck Victoria! Thanks for stopping by!
______________________________
PET SHELTER OF THE WEEK
Boston Terrier Rescue of North Carolina 
We had Patsy Hinson of the Boston Terrier Rescue of North Carolina join us this week to talk about some of Butch's distant relatives they have available and their procedures and policies to adopt. Don't forget to stop by their Web Site and send a valentine! They even made us an honorary member and we are proud to be one! We look forward to a visit to North Carolina later this year to say HI!
_______________________________
Dr. Patrick Mahaney of California Pet Acupuncture and Wellness Vet topic of the week. Dr. Patrick Couldn't join us this week but he will be back soon!
_______________________________
QUICK UPDATES & LINKS
Tainted Peanut Products and Salmonella from MSNBC.com
AKC Agility competition will air on Animal Planet on February 7th!
Next week we will be talking about the WESTMINSTER trip to New York with interviews so stop by! Also here is the FDA link to our Peanut Recall info. it's at the bottom of the page.
_______________________________
Listen to the My Buddy Butch Talk Show #25 now Join us again next week! As always our shows are available on Apple iTunes and on our own site. All shows stream 24/7 on our site and can be downloaded in mp3 format from our BTR site.  

HEY! We Won a 2009 MOM'S CHOICE AWARD FOR ADULT NON-FICTION!We are trying to do what we can in this tough economy so we are extending the free Shipping for My Buddy Butch until March 31st at our site by entering the Code MD0908 at Mybuddybutch.com  Enter the code in the "Comments" box! Read More Reviews of the Book HERE!
You can also request an "Autographed" copy!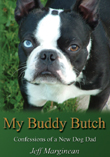 My Buddy Butch – Confessions of a New Dog Dad is a family friendly book and makes a great gift!   AMAZON.COM
, BORDERS BOOKS, BARNES & NOBLEÂ Â