TAAAA DAAAAAA! More technical issues with our feed! Well we were able to get 45 Minutes in before things pooped out on us…probably due to the massive power outages and lines down from the 70 and 80MPH winds that ripped through last night. SOOOO Next week we will extend the show 30 minutes to get the rest of the WESTMINSTER interviews in and we will even have an inventor of a new pet product in between! SORRY again for the delay but these things happen!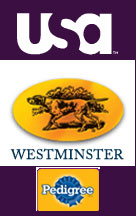 What an outstanding 4 days in New York. As soon as I hit the ground we were off and running. Check out this week's show for all the details on the Westminster trip. From meeting collegues and new friends at the SkyBark Fashion Show/Party Friday night  to the Pet Writer's conference on Saturday to the fantastic dinner at the DWAA Awards show Sunday, there was plenty to tell you during this show. I met up with David Frei for a breif conversation and of course how could we forget the DOG SHOW! THis is truely the "SUPERBOWL" of dog shows everywhere and they really know how to do it in New York. I even had the honor of sitting next to a good friend of the My Buddy Butch Talk Show, Animal First Aid and CPR expert Denise Fleck of SunnyDogInk.com.
Denise is very knowledgable on keeping your pet safe and how to help in an emergency!
 
______________________________
PET SHELTER OF THE WEEK
Sean Casey Animal Rescue of Brooklyn New York
Naturally going to the functions in New York this week I would run into individuals doing every kind of animal work imaginable. First on my mind is seeing who has a rescue shelter organization in place and actively placing animals. Talking to a lovely young woman walking a bulldog wearing a cap at the Skybark party I learned of the Sean Casey Animal Rescue organization.  Don't forget to stop by their Web Site and check out the animals they have available and how you can help.
_______________________________
Dr. Patrick Mahaney of California Pet Acupuncture and Wellness Vet topic of the week. Dr. Patrick Couldn't join us this week but he will be back soon!
_______________________________
QUICK UPDATES & LINKS
Tainted Peanut Products and Salmonella from MSNBC.com
Next week we will have PART 2 of the WESTMINSTER trip to New York with interviews so stop by! Also here is the FDA link to our Peanut Recall info. it's at the bottom of the page.
_______________________________
Listen to the My Buddy Butch Talk Show #26 now Join us again next week! As always our shows are available on Apple iTunes and on our own site. All shows stream 24/7 on our site and can be downloaded in mp3 format from our BTR site.  

HEY! We Won a 2009 MOM'S CHOICE AWARD FOR ADULT NON-FICTION!We are trying to do what we can in this tough economy so we are extending the free Shipping for My Buddy Butch until March 31st at our site by entering the Code MD0908 at Mybuddybutch.com  Enter the code in the "Comments" box! Read More Reviews of the Book HERE!
You can also request an "Autographed" copy!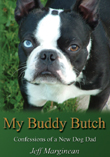 My Buddy Butch – Confessions of a New Dog Dad is a family friendly book and makes a great gift!   AMAZON.COM
, BORDERS BOOKS, BARNES & NOBLEÂ Â