HELOISE! That name has been a household word for years and we are proud to have her as a guest. She is one of the most trusted sources for helping people and pets anywhere! Her column "Hints from Heloise" is syndicated in over 500 newspapers in the USA and around the world running 7 days each week. There are not many of us that have not received a newspaper cutting from a parent or friend about some helpful tip that Heloise has written about which directly addresses a need we may have had. Join us as Heloise discusses helpful hints for caring for our pets and talks about her own furry family members and the care that she has given them over the years. She give us great tips that you wouldn't normally think of. She is as delightful to talk to as her column is to read. She made me feel as if I was getting advice from my own sister! Chek out the "Pet of the Week!" section on her Web Site.
_______________________________
VET TOPICÂ OF THE WEEK WITH DR. DONNA SPECTOR
Consulting veterinarian for HALO foods Dr. Donna Spector joined us for our Vet topic of the week. We are glad to have her aboard and look forward to some interesting helpful topics on pet care. This week we will be talking about the swine flu and how it can affect your pet. Dr. Spector also mentions a very important point about keeping your pet hydrated and how the foods that you feed your pet can help. She keeps her dog on a daily regiment of both dry and soft food! 
_______________________________Â 
 QUICK NEWS & UPDATES
Our Blog has been picked up by Dogtime.com  another great resource for pet owners!
Glow in the Dark Dogs? In Joe's quest for the perfect dog he may have found it!
April 19th was National Pet ID week. Check out  IDTAG.com
Here is the FDA link to our Recall info. (it's at the bottom of the page.)
_______________________________
Listen to the My Buddy Butch Talk Show #37 now Join us again next week! As always our shows are available on Apple iTunes and on our own site. All shows stream 24/7 on our site and can be downloaded in mp3 format from our BTR site.  

Purchase our AWARD WINNING BOOK at MyBuddyButch.com ! Or better yet use the Toll FREE number to order 800-247-6553! Read More Reviews of the Book HERE!
You can also request an "Autographed" copy!
DOVE FOUNDATION AWARD FOR "FAMILY FRIENDLY" CONTENT ALL AGESÂ 
BOOK OF THE YEAR AWARD FINALIST - FORWARDÂ MAGAZINE (Winner announced in May 2009)Â 
WINNER – MOM'S CHOICE AWARD - ADULT NON-FICTION.
USA BEST BOOKS AWARD FINALIST - USA BOOK NEWS!
HONORABLE MENTION – NEW YORK BOOK FESTIVAL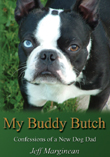 My Buddy Butch – Confessions of a New Dog Dad is a family friendly book and makes a great gift!   AMAZON.COM
, BORDERS BOOKS, BARNES & NOBLE