Dr. Helen Fazio and I met in New York during the weekend that I was covering the Westminster Dog Show. She was delightful to talk to then and equally delightful on the air. She shared with us a few issues to consider when traveling with your pet around the USA as well as to other countries. Check out the blog that she writes with Raja her "shi_tzu advisor" on their travels!
_______________________________
Being National Pet ID Week we wanted to get Rishi on the air with us to talk about how his company can help people protect their pets BEFORE they get lost or run away! Rishi is the CEO of IDTAG.Com and they have a great system for pet owners in the USA and Canada for finding lost pets.
_______________________________
PET SHELTER OF THE WEEK
 
Karen Toupard was kind enough to join us to talk about the BT rescue of Greater Houston in Texas. THey are a responsible organization have many great dogs to adopt. Boston terriers have been near and dear to me since I was a kid and I can say that they are a great breed and will add quality to anyone's life that might adopt one. Please research the breed before adopting and contact the rescue group with any questions! We highly recommend adopting. Butch insists that we have a BT rescue on every couple of months or so! 
 
 
 
 _______________________________ 
 QUICK NEWS & UPDATES
April 19th was the beginning of National Pet ID week. Check out  IDTAG.com
Here is the FDA link to our Peanut Recall info. (it's at the bottom of the page.)
_______________________________
Listen to the My Buddy Butch Talk Show #36 now Join us again next week! As always our shows are available on Apple iTunes and on our own site. All shows stream 24/7 on our site and can be downloaded in mp3 format from our BTR site.  

Purchase our AWARD WINNING BOOK at MyBuddyButch.com ! Or better yet use the Toll FREE number to order 800-247-6553! Read More Reviews of the Book HERE!
You can also request an "Autographed" copy!
BOOK OF THE YEAR AWARD FINALIST – FORWARDÂ MAGAZINE (Winner announced in May 2009)Â 
WINNER – MOM'S CHOICE AWARD – ADULT NON-FICTION.
USA BEST BOOKS AWARD FINALIST – USA BOOK NEWS!
HONORABLE MENTION – NEW YORK BOOK FESTIVAL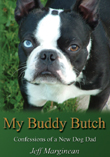 My Buddy Butch – Confessions of a New Dog Dad is a family friendly book and makes a great gift!   AMAZON.COM
, BORDERS BOOKS, BARNES & NOBLE