Well Hello everyone! It's been quite the rollercoaster ride the last few weeks. Dad is doing much better now and at 85, after 2 emergency surgeries last week, is now in physical therapy. He is much healthier than most people his age so we are thankful that he was strong enough to withstand a difficult time. Thanks to everyone who has been concerned and have sent along their well wishes and prayers for him as it appears that they have worked well and he will be back to his normal routine in a couple of weeks!
Ever been to Thailand? Well, our good friend Dr. Patrick Mahaney of California Pet Accupuncture and wellness has and he takesa a few moments to talk with us about his experience there and the state of the animals living in Singapore, Bankok, and the Phi Phi islands. Listen to the show for the interview and check out his column at the Examiner!
_______________________________
I will be appearing at the Book Expo of America in New York City at the Javits Center for the Mom's Choice Awards for a book signing on Friday May 29th at 2PM at booth #345 and on Saturday at 3pm at the Main Author Signing area at 3pm at table #19. Stop by and pick up a book and say Hi! I would love to meet you!
_______________________________
VET TOPICÂ OF THE WEEK WITH DR. DONNA SPECTOR
 
Consulting veterinarian for HALO foods Dr. Donna Spector joined us for our Vet topic of the week. We are glad to have her aboard and look forward to some interesting helpful topics on pet care. This week Dr. Spector talks about National Dog Bite Prevention Week. She gives tips on how to minimize the possibility of your dog biting someone, even if your dog is not prone to this behavior there are situations that can cause them to bite! She also talks about traveling with your pet and introduces us to a new airline that caters specifically to pets!
_______________________________
QUICK NEWS &Â UPDATES
Here are a few Tips from the CDC on National Dog Bite Prevention Week.
Our Blog has been picked up by Dogtime.com  another great resource for pet owners!
Glow in the Dark Dogs? In Joe's quest for the perfect dog he may have found it!
April 19th was National Pet ID week. Check out  IDTAG.com
Here is the FDA link to our Recall info. (it's at the bottom of the page.)
_______________________________
Listen to the My Buddy Butch Talk Show #38 now Join us again next week! As always our shows are available on Apple iTunes and on our own site. All shows stream 24/7 on our site and can be downloaded in mp3 format from our BTR site.  

Purchase our AWARD WINNING BOOK at MyBuddyButch.com ! Or better yet use the Toll FREE number to order 800-247-6553! Read More Reviews of the Book HERE!
You can also request an "Autographed" copy!
DOVE FOUNDATION AWARD FOR "FAMILY FRIENDLY" CONTENT ALL AGES 
BOOK OF THE YEAR AWARD FINALIST - FORWARDÂ MAGAZINE (Winner announced in May 2009)Â 
WINNER – MOM'S CHOICE AWARD - ADULT NON-FICTION.
USA BEST BOOKS AWARD FINALIST - USA BOOK NEWS!
HONORABLE MENTION – NEW YORK BOOK FESTIVAL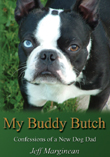 My Buddy Butch – Confessions of a New Dog Dad is a family friendly book and makes a great gift!   AMAZON.COM
, BORDERS BOOKS, BARNES & NOBLE