Hour 1 – Our new My Buddy Butch contributor, Dr. Fran Walfish of California, author of the "Self Aware Parent" joins us to talk about her book on parenting and some of the topics that we will be covering in the coming weeks. Also we start playing some of the interviews with various CEO's and reps from different pet based companies that were at the H.H. Backer Show in Atlantic City. Urine OFF a great cleaning product that WORKS! ECO ME cleaning products for your home and pets that are all natural and Pipsqeak Productions, VERY nice assortment of pet themed gifts. Back with us again this week is composer and classically trained musician for Disney's "Baby Einstein" series Tom Nazziola to talk about some of the rescues that his CD "Music My Pet" which is used specifically to soothe animals has helped since its release. Jeff also covers news and announcements. Hour 2 – Jeff discusses some of the products that he saw at the HH Backer Trade show and plays the rest of the interviews from companies that will revolutionize the pet world in the coming years. Pet Bath an automatic dog washing machine, Hyperflite JAWS Discs with Peter Bloeme founder, inventor and national disc champion. Want to teach your dog to catch a disc? They have books and a DVD to show you how to do it. Terry Goldman CEO of PENN PLAX the fish and reptile pet supply company founded in the 50's in Brooklyn New York. A few tips for senior pets…companies are starting to cater to an aging pet population and there are some great products out there to help make pets lives more comfortable as they age. Also some news and announcements on some of the biggest names in the pet industry. KENTUCKY Derby Coverage coming up next week!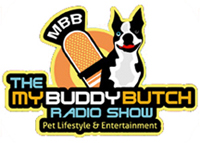 Check out our news blog  each week as we try to keep items posted as news stories come in. For all of our news topics and to LISTEN TO THIS WEEK'S SHOW , join us at our MBB Radio home page the  MBB RADIO WEB SITE.
Have a news story or announcement? Rescue need specific type of help?Email us at news@mybuddybutch.com and we will try to get it posted for you and we may cover it on the show.
________________________________
QUICK INFO

The My Buddy Butch Daily feature!  Our
Nationally
Syndicated radio show and feature is made available to radio stations across the USA, Canada, and outlying
areas
exclusively through
Talk Shows USA
and is comprised of tips, Vet advice, animal expert advice, some of the things that Butch and I have
learned
together as well as
Celebrity
and Best Selling author
interviews
, and  Rescue facilities from everywhere! If you are a
Program
Director or sales rep of a radio station
click
the link above or if not, tell your local radio station about us and you may
hear
us in your
area
soon! 

Sign up for our FREE NEWSLETTER the "My Buddy Butch Chronicle"  I will be giving a run down on each weekly show, adding articles, and featuring one rescue organization each week. We will be adding more features as time goes on so subscribe and check it out! We also have a classified section and also have sponsorships available!
My Buddy Butch – Confessions of a New Dog Dad is available on Ebook for your favorite reader ! Click here for details and formats! Now available on Amazon.com for your Kindle reader!
RESCUE SHELTERS AROUND THE COUNTRY: Do you know of a reputable pet rescue shelter in your local area? Are you a Rescue Shelter your self? We would love to interview you on our Weekly Pet Rescue Shelter segment on the show and here on our blog! You can be big or small, breed specific or all breed, rescue dogs, and rescue other animals as well! Contact us at info@mybuddybutch.com and put "RESCUE" in the subject line!
MBB RADIO SHOW TOPICS: Do you have a favorite celebrity pet owner? Do you have an important topic that you would like us to cover on the show? Do you have a question about your pet's care that you would like to ask? Don't hesitate to contact us and let us know! info@mybuddybutch.com
PET OR ANIMAL SICKNESS IN YOUR PART OF THE COUNTRY: Are you a Veterinarian that has noticed a particular problem or sickness in animals and pets in your part of the country? Let us know about it and we can announce it and/or have you on the show to talk about it! info@mybuddybutch.com
LOCAL FUNCTION HAPPENING IN YOUR AREA? We want to know about it and we will even announce it on the show! Email your announcement to us at info@mybuddybutch.com
______________________________
Join us again next week! As always our shows are available on Apple iTunes and Zune as well as on our own site at MBBRadio.com. All shows stream 24/7 on our site and can be downloaded in mp3 format directly from our player. Our Live Thursday night "My Buddy Butch Extras"  can be downloaded from our BTR site as well. 
Purchase our AWARD WINNING BOOK at MyBuddyButch.com ! Or better yet use the Toll FREE number to order 800-247-6553! You can ask for an autographed copy if you wish! Read More Reviews of the Book HERE!
You can also get My Buddy Butch on EBook!
DOVE FOUNDATION AWARD FOR "FAMILY FRIENDLY" CONTENT ALL AGES! 
BOOK OF THE YEAR AWARD FINALIST - FORWARD MAGAZINE 
2 TIME WINNER – MOM'S CHOICE AWARD - ADULT NON-FICTION AND FAMILY FRIENDLY ENTERTAINMENT.
USA BEST BOOKS AWARD FINALIST - USA BOOK NEWS!
HONORABLE MENTION – NEW YORK BOOK FESTIVAL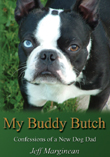 My Buddy Butch is an Award Winning Book! 
My Buddy Butch – Confessions of a New Dog Dad is a family friendly book and makes a great gift!  AMAZON.COM
 -  BORDERS BOOKS - BARNES & NOBLE