Actress Kristina Klebe fosters cats and dogs!
Beauty, which is obvious, brains, she speaks multiple languages, and a heart to care for homeless pets! Kristina Klebe has fostered dogs and cats for shelters including "Best Friends" but wisely does not have a pet to call her own! "With my schedule as hectic as it is, it's just not fair to have a pet at this point in my life." Kristina sets a good example for those thinking of getting a pet. "It's a long term responsibility!" Thanks for being with us Kristina and we look forward to seeing you on the Silver screen soon!
Kristina has appeared on "Law and Order," "Law and Order: SUV," "Rescue Me," and the German television program "St. Angela." She is also known for her leading role as Lynda in Rob Zombie's remake of "Halloween." Prior to this portrayal, Klebe played a part in Spike Lee's 2004 seriocomic meditation , "She Hate Me." Kristina's film "Peter and Vandy" starring Jason Ritter premiered at Sundance 2009, and she is also starring in the upcoming film "The Accidental Husband" with Uma Thurman and Isabella Rossellini, set to be released mid 2009. You can visit Kristina Klebe at www.myspace.com/kristinaklebe
______________________________________________
PET RESCUE SHELTER OF THE WEEK
Even wild animals need a shelter sometimes. Check out this baby moose that lost its Mom and was rescued from a creek by an animal lover. This little guy can't be more than days old and would have surely died. Hear the story on the show! We will resume our Pet Shelter segment next week!
______________________________________________
VET TOPIC OF THE WEEK
Dr. Patrick Mahaney "Vet to the Stars" talks about the phenominon of "CyberChondriac!" Are you a Cyberchondriac? I know I was when I first brought Butch home!
______________________________________________
QUICK UPDATES & LINKS
Steep Vet bills doom more pets – courtesy of MSNBCÂ -Â It may be a good time for that Pet insurance policy!
Ohio Petland Pet Stores Accused of Scheme to Sell Sick Puppies - Let's keep an eye on this!
Here is the FDA link to our Peanut Recall info. (it's at the bottom of the page.)
_______________________________
Listen to the My Buddy Butch Talk Show #32 now Join us again next week! As always our shows are available on Apple iTunes and on our own site. All shows stream 24/7 on our site and can be downloaded in mp3 format from our BTR site.  

ONLY A FEW DAYS LEFT! Get the FREE SHIPPING for My Buddy Butch until March 31st at our site by entering the Code MD0908 at MyBuddyButch.com  Enter the code in the "Comments" box! Or better yet use the Toll FREE number to order 800-247-6553! Read More Reviews of the Book HERE!
You can also request an "Autographed" copy!
BOOK OF THE YEAR AWARD FINALIST – FORWARDÂ MAGAZINE (Winner announced in May 2009)Â 
WINNER – MOM'S CHOICE AWARD – ADULT NON-FICTION.
USA BEST BOOKS AWARD FINALIST – USA BOOK NEWS!
HONORABLE MENTION – NEW YORK BOOK FESTIVAL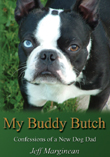 My Buddy Butch – Confessions of a New Dog Dad is a family friendly book and makes a great gift!   AMAZON.COM
, BORDERS BOOKS, BARNES & NOBLEÂ Â