What a week! I have one less tooth in my head and it still doesn't feel any lighter! Thanks to Joe Procario for picking up the slack and all 3 of the great ladies that joined us for bearing with my temporary albeit inconvenient infirmity. Wow, that english is too proper, makes my jaw hurt just reading it! OK, on with it…
______________________________________________
 Our good friend Denise Fleck from SunnyDogInk.com has a great PET CPR Event happening on April 18,2009 and she joined us to talk about it. Denise has always shared great information with us about pet first aid and she seems to always think of helpful items that you might not think of on your own! Denise has trained with seven NATIONAL organizations on animal saving skills and is inviting all of us to take part in the LARGEST GATHERING EVER OF HUMANS LEARNING ANIMAL LIFE SAVING TECHNIQUES at PAWSTRONOMICAL.com Her sunnydogink.com is partnering with Volunteers of the Burbank Animal Shelter to bring this important event to you!
 ______________________________________________
VET TOPIC OF THE WEEK
Dr. Nancy Kay DVM, recipient of the American Animal Hospital Association 2009 Animal Welfare and Humane Ethics Award and  author of "Speaking for Spot:Be the Advocate Your Dog Needs to Live a Happy, Healthy, Longer Life" joins us for the Vet topic of the week: Continuing "The Ten Commandments of Veterinary visits."  Visit www.speakingforspot.com to find a comprehensive list of organizations that may be able to offer financial assistance for veterinary care, to join the Speaking for Spot mailing list, and to follow Dr. Kay's blog which assists pet lovers with health-care decision making on many levels!
______________________________________________
QUICK UPDATES & LINKS
Steep Vet bills doom more pets – courtesy of MSNBCÂ -Â It may be a good time for that Pet insurance policy!
Ohio Petland Pet Stores Accused of Scheme to Sell Sick Puppies - Let's keep an eye on this!
Here is the FDA link to our Peanut Recall info. (it's at the bottom of the page.)
_______________________________
Listen to the My Buddy Butch Talk Show #33 now Join us again next week! As always our shows are available on Apple iTunes and on our own site. All shows stream 24/7 on our site and can be downloaded in mp3 format from our BTR site.  

Purchase our AWARD WINNING BOOK at MyBuddyButch.com ! Or better yet use the Toll FREE number to order 800-247-6553! Read More Reviews of the Book HERE!
You can also request an "Autographed" copy!
BOOK OF THE YEAR AWARD FINALIST – FORWARDÂ MAGAZINE (Winner announced in May 2009)Â 
WINNER – MOM'S CHOICE AWARD – ADULT NON-FICTION.
USA BEST BOOKS AWARD FINALIST – USA BOOK NEWS!
HONORABLE MENTION – NEW YORK BOOK FESTIVAL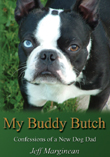 My Buddy Butch – Confessions of a New Dog Dad is a family friendly book and makes a great gift!   AMAZON.COM
, BORDERS BOOKS, BARNES & NOBLEÂ Â