I'm a tough sell when it comes to pet products ESPECIALLY foods and treats. Probably because I don't believe the first sales pitch I hear until I investigate whatever is being sold to me. I mean c'mon, it takes me 6 months to buy a car! Like most pet owners, I'm always on the look out for new products and services to help Butch lead a happy healthy safer life. I love the little guy so I want to keep him with me as long as absolutely possible! So being that I travel to many of the biggest functions in the country for my book and the radio show, I have the opportunity to learn of products of all types, shapes, sizes, and tastes that claim to bring some type of enjoyment or benefit to your pet's well being. I investigate most of them and always run them past Butch for his opinion. While at Westminster this year in February I was handed a couple of samples and a pamphlet on HALO brand products. Looking through it, I recalled that this was the company that Ellen DeGeneres liked so much that she bought a stake in them. Hmmm, I thought Butch needs to check this out, but he probably will not like it. He has quite the discriminating palette. Hello HALO! He LOVES it! The fact that he gobbled it up is one thing but after investigating the ingredients and the company further I was completely sold. Butch recommends HALO dog food very highly and I like the company and the care they place on each of the products they offer. I can't say enough about them and from now on you will always find HALO products in my pantry for Butch!
Join us this week for an in-depth interview with HALO's Veterianary Pet Health expert Dr. Donna Spector. Dr. Spector really knows her stuff and explains the steps in detail on how to maintain the proper weight and health for your pet! Also check out the HALO web site, it is one of the best that I have seen!
_______________________________
PET RESCUE SHELTER OF THE WEEK
Molly Stretten joins us from the Burbank Animal Shelter in California. She talks about the animals they are helping and also a great function coming up on April 18th! For all of our California listeners, and I know we have a lot of them (I see you hitting our site…we know you're out there and we love you!), check out the web site and adopt a new friend today! Also save the date for this PAWSTRONOMICAL EVENT in California!
_______________________________
QUICK NEWS &Â UPDATES
War Hero Helps Nab Killers of his Dog - They picked the wrong guy to mess with! The 911 call.
Australian Cattle Dog Swims 5 Miles and survives on island for 4 months - Unbelievable pet!
Steep Vet bills doom more pets – courtesy of MSNBCÂ -Â It may be a good time for that Pet insurance policy!
Ohio Petland Pet Stores Accused of Scheme to Sell Sick Puppies - Let's keep an eye on this!
Here is the FDA link to our Peanut Recall info. (it's at the bottom of the page.)
_______________________________
Listen to the My Buddy Butch Talk Show #34 now Join us again next week! As always our shows are available on Apple iTunes and on our own site. All shows stream 24/7 on our site and can be downloaded in mp3 format from our BTR site.  

Purchase our AWARD WINNING BOOK at MyBuddyButch.com ! Or better yet use the Toll FREE number to order 800-247-6553! Read More Reviews of the Book HERE!
You can also request an "Autographed" copy!
BOOK OF THE YEAR AWARD FINALIST – FORWARDÂ MAGAZINE (Winner announced in May 2009)Â 
WINNER – MOM'S CHOICE AWARD – ADULT NON-FICTION.
USA BEST BOOKS AWARD FINALIST – USA BOOK NEWS!
HONORABLE MENTION – NEW YORK BOOK FESTIVAL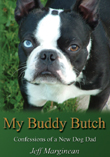 My Buddy Butch – Confessions of a New Dog Dad is a family friendly book and makes a great gift!   AMAZON.COM
, BORDERS BOOKS, BARNES & NOBLEÂ