Hal Abrams and Animal Radio! What can I say, these people have it together when it comes to running a great show! They had us in stitches trying to get to the next question! They have been gracing the airwaves for almost 10 years and have amassed an audience from coast to coast. With 99 stations and XM Radio they are providing great pet based programming! From Celebs to pet care, products and books listeners can also call in and talk live with them on the show. Hal introduced the group and we were honored that they all checked in to be with us. You have probably heard of them, but if you haven't, you have to check them out. They are all about the pets and helping them live better healthier lives so we are with them! If you love your pet you'll love Animal Radio! See the Web Site for availability!
AnimalRadio.com
_______________________________
Don't forget the Pawstonomical event this Saturday the 18th in Burbank California!
_______________________________
VET TOPIC OF THE WEEK
Dr. Nancy Kay DVM, recipient of the American Animal Hospital Association 2009 Animal Welfare and Humane Ethics Award
and
 author of "
Speaking for Spot:Be the Advocate Your Dog Needs to Live a Happy, Healthy, Longer Life
" joins us for the
Vet topic of the week: Discussing Pet Identification technology and pet allergies now that we are entering spring time!  Visit
www.speakingforspot.com
to find a comprehensive list of organizations that may be able to offer financial assistance for veterinary care, to join the Speaking for Spot mailing list, and to follow Dr. Kay's blog which assists pet lovers with health-care decision making on many levels!
_______________________________
PET SHELTER OF THE WEEK
We will get back to our Pet shelter schedule next week! 
_______________________________
 
 
QUICK NEWS &Â UPDATES
Watch QVC This weekend 12 to 1pm Pacific (3-4pm Eastern) for Dr. Donna Spector and Ellen Degeneres talking about  HALO pet Products!
April 19th is the beginning of National Pet ID week. Check out  PetID.com
Here is the FDA link to our Peanut Recall info. (it's at the bottom of the page.)
_______________________________
Listen to the My Buddy Butch Talk Show #35 now Join us again next week! As always our shows are available on Apple iTunes and on our own site. All shows stream 24/7 on our site and can be downloaded in mp3 format from our BTR site.  

Purchase our AWARD WINNING BOOK at MyBuddyButch.com ! Or better yet use the Toll FREE number to order 800-247-6553! Read More Reviews of the Book HERE!
You can also request an "Autographed" copy!
BOOK OF THE YEAR AWARD FINALIST – FORWARDÂ MAGAZINE (Winner announced in May 2009)Â 
WINNER – MOM'S CHOICE AWARD – ADULT NON-FICTION.
USA BEST BOOKS AWARD FINALIST – USA BOOK NEWS!
HONORABLE MENTION – NEW YORK BOOK FESTIVAL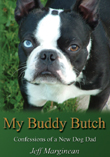 My Buddy Butch – Confessions of a New Dog Dad is a family friendly book and makes a great gift!   AMAZON.COM
, BORDERS BOOKS, BARNES & NOBLE