Back from the Book Expo and what a great time it was meeting all of the people who turned out to get a copy of "My Buddy Butch – Confessions of a New Dog Dad!" I thought we would take this week to introduce the expo to those who have not heard of it and give a little taste of what my weekend was like. As always the "Mom's Choice Awards" people were great and helped me navigate my way around. Listen to the show for more of the details, I was humbled signing so many autographs in the matter of three days! I'll have some pictures up as soon as I can. Please check our Image gallery for more pictures!
Joe and Butch had quite the battle of wills while I was gone. Listen in to Joe's take on the pet sitting experience. We missed Dr. Patrick this week as we had a mixup in our time zones but he will be back next week to discuss the pet sitting topic. Dr. Donna Spector of HALO is in process of moving her family to Chicago so she is taking a break for a couple weeks to get things taken care of on the home front!
_______________________________
QUICK NEWS &Â UPDATES
Here are a few Tips from the CDC on National Dog Bite Prevention Week.
Our Blog has been picked up by Dogtime.com  another great resource for pet owners!
Glow in the Dark Dogs? In Joe's quest for the perfect dog he may have found it!
April 19th was National Pet ID week. Check out  IDTAG.com
Here is the FDA link to our Recall info. (it's at the bottom of the page.)
_______________________________
Listen to the My Buddy Butch Talk Show #39 now Join us again next week! As always our shows are available on Apple iTunes and on our own site. All shows stream 24/7 on our site and can be downloaded in mp3 format from our BTR site.  

Purchase our AWARD WINNING BOOK at MyBuddyButch.com ! Or better yet use the Toll FREE number to order 800-247-6553! You can ask for an autographed copy if you wish! Read More Reviews of the Book HERE!
You can also request an "Autographed" copy!
DOVE FOUNDATION AWARD FOR "FAMILY FRIENDLY" CONTENT ALL AGES 
BOOK OF THE YEAR AWARD FINALIST - FORWARDÂ MAGAZINE (Winner announced in May 2009)Â 
WINNER – MOM'S CHOICE AWARD - ADULT NON-FICTION.
USA BEST BOOKS AWARD FINALIST - USA BOOK NEWS!
HONORABLE MENTION – NEW YORK BOOK FESTIVAL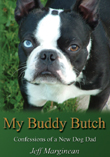 My Buddy Butch – Confessions of a New Dog Dad is a family friendly book and makes a great gift!   AMAZON.COM
, BORDERS BOOKS, BARNES & NOBLE