Hi all, We had so much to get in this week that we streched the show to 90 minutes! Great information on getting your pet around the USA safely from Pet Airways, in-depth information on the Akita breed and how to adopt, recognizing heat-stroke in your dog and a visit from our good friend Denise Fleck. Here we go…
 _______________________________
 
 
WE HAVE NEEDED THIS FOR A LONG TIME! Pet Airways is a new company dedicated to the safe, convenient transport of your pet from coast to coast and destinations in-between. They are all pet parents themselves and know the worry that can be caused by taking your pet on a long trip. Having to leave your pet in a cargo hold on a jet is very unsettling as well as extremely unsafe for your pet. alyse Tognotti tells us how you can be sure that your pet will arrive safely and fly comfortably in one of there specially modified aircraft! These planes are "human planes" not some WW2 rickety cargo plane! Not only that, but these people care about homeless pets also! Listen in for some great advice on flying and how to prepare you pet for flying! Don't forget to check out their Web Site also for travel rates and specific information!
_______________________________
RESCUE SHELTER OF THE WEEK
Kathy DeWees of the Akita Rescue of Western New York joined us to talk about the specific needs of the Akita, some of the history of the breed, and what prosepective owners of the "Regal" breed need to know BEFORE adopting! DId you know that the Akita originated in Japan? Do you know when and how they were introduced to this country? Can you guess who it was in the United States that recieved a gift of an Akita from Japanese royalty? Kathy shares all of this and more in a very interesting interview!
_______________________________
VETERINARIAN TOPIC OF THE WEEK
Dr. Donna Spector has done countless reasearch studies over the years on animals so she knows what she is talking about when it comes to caring for your pet during these stressful summer months. Dr. Donna checks in with the second part of the series on Summer Troubles – "Heat Stroke" and what to watch out for to keep your pet safe, happy, and healthy while enjoying the warm weather!
_______________________________
Denise Fleck of Sunnydogink.com stops by to talk about her Akita's, her latest feature in a Major Japanese magazine, and also the close call one of her dogs had with a RATTLE SNAKE! She shares what to do if you run into this problem also. Don't forget poisonous snakes are in most parts of the USA! Check to see what snakes are in your area BEFORE you run into this problem. It could save not only your pet's life but also YOUR OWN!
_______________________________
QUICK UPDATE
I will be appearing at the American Library Association Conference   in Chicago on July 11th and 12th for 2 book signings, to chat about the show, and to talk about your pets! Join me at the Mom's Choice Award's Exhibit and pick up our award winning book "My Buddy Butch – Confessions of a New Dog Dad" and say hi!
_______________________________
 
Listen to the My Buddy Butch Talk Show #42 now Join us again next week! As always our shows are available on Apple iTunes and on our own site. All shows stream 24/7 on our site and can be downloaded in mp3 format from our BTR site.  

Purchase our AWARD WINNING BOOK at MyBuddyButch.com ! Or better yet use the Toll FREE number to order 800-247-6553! You can ask for an autographed copy if you wish! Read More Reviews of the Book HERE!
You can also request an "Autographed" copy!
DOVE FOUNDATION AWARD FOR "FAMILY FRIENDLY" CONTENT ALL AGES 
BOOK OF THE YEAR AWARD FINALIST - FORWARDÂ MAGAZINE (Winner announced in May 2009)Â 
WINNER – MOM'S CHOICE AWARD - ADULT NON-FICTION.
USA BEST BOOKS AWARD FINALIST - USA BOOK NEWS!
HONORABLE MENTION – NEW YORK BOOK FESTIVAL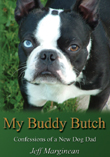 My Buddy Butch – Confessions of a New Dog Dad is a family friendly book and makes a great gift!   AMAZON.COM
, BORDERS BOOKS, BARNES & NOBLEÂ Â